See on Scoop.it – MISSION X SUPPORT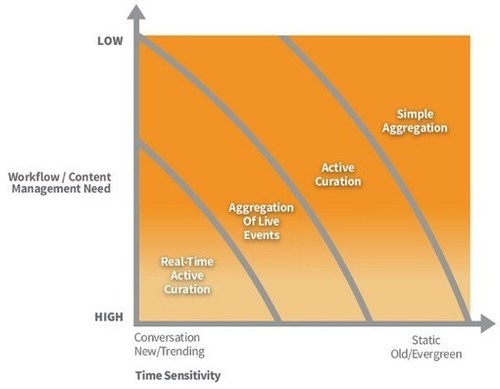 Excerpt from article by Robert Rose and published on Content Marketing Institute:
"Content curation is a means by which we either supplement or promote our brand's point of view to our specific audiences within the context of how the "world" is talking about that particular topic. We see it as a spectrum of activities that evolve from one point to the next:
– Simple aggregation and collection of content (with or without a distinct point of view)
– Active curation and promotion of a point of view using that collection as a source
– Aggregation and curation of user-generated content and social conversation around reported events or news in order to build an engaged community
– Active real-time coverage of events and "newsroom" coverage of events around trending topics
If you want to use curation but are not sure how it could fit into your content marketing strategy, consider these four business benefits.
1. "Taming the firehose of content"
Many content marketers still struggle with "feeding the beast" of content and look to content aggregation tools to help them filter — and provide topical relevance to — content they may want to deploy for any of the approaches mentioned above.
2. Faster, more agile content marketing
Beyond social listening tools, content curation and aggregation tools (especially those that also pull in conversations) can help a brand be "in tune" with what's happening in real time.
3. Adding points of view and distinct experiences
Many content curation tools approach the curation idea from this perspective — where the content marketer has not only the capability to aggregate the content in a "portal" type of interface, but also to organize and add new content, and package it all in a way that may create an entirely new type of experience.
4. Empowering and engaging target audiences
Jeff Ernst, Vice President of Marketing at Forrester Research, has been quoted as saying, "Consumers don't buy your product or service, they buy your approach to solving their problem." This is certainly a core tenet of content marketing, and the idea of giving audiences both the incentive and the power to aggregate around a branded approach to a particular topic is an attractive one.
Evaluating content curation solutions
The content curation space has extraordinary diversity in differentiating technology. While some are, quite literally, just using basic web searches to aggregate content based on themes, other solutions have incredibly sophisticated semantic and indexing technologies that could ultimately provide true differentiating value to the business — or an acquiring company.
We recommend developing a more thorough evaluation of the benefits a curation and conversation management process should achieve for your business.
Here are some questions you may want to ask:
– What sources can the tool curate content from? RSS feeds? Twitter? LinkedIn? Facebook?
– How can the tool help me filter the best info?
– Can it curate content that's created in-house across different channels?
[…and many others]…"
Read full, original and interesting article here:
http://contentmarketinginstitute.com/2013/11/content-curation-solutions/
ELISA TANGKEARUNG's insight:
Untukmu Temang-temang…:) f u my friends
See on contentmarketinginstitute.com