See on Scoop.it – elisatangkearung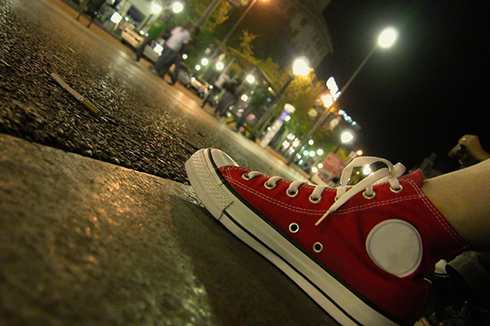 ELISA TANGKEARUNG's insight:
To elisa ,
Perhaps you have read about bad experiences suffered by Erwiana , Indonesian migrant domestic workers who work in Hong Kong . Prior to working in Hong Kong , Erwiana is a jolly girl and of course the desire to work abroad is for the sake of improving their well-being as well as continuing education to university . Not to be mistreated as slaves .
Erwiana new work about 8 months , but now he was lying ill with a serious head injury and her body. According to his testimony , almost every day he suffered physical and psychological torture of his master , causing his body suffered severe injuries . When Erwiana reported ill-treatment he received for labor recruitment agencies , they even threatened Erwiana and forced to work back to the employer who likes to torment him .
Erwiana is one of the many Indonesian migrant domestic workers are vulnerable to exploitation and slavery in Hong Kong today .
To put an end to stories of grief as experienced by Erwiana , let's encourage the Ministry of Manpower and Transmigration to end modern slavery against Indonesian migrant domestic workers in Hong Kong .
Removal of this coercive policy will be concrete steps to end the practice of modern slavery suffered by Indonesian migrant domestic workers who work in Hong Kong . During the Indonesian government ( through the Minister of Manpower and Transmigration of the Republic of Indonesia No. . 4 Year 2013 on Procedures for the Employment Agreement on Individual User ) still force the Indonesian migrant workers in Hong Kong who want to renew the contract for payment of Rp . 15.000.000 – Rp . 20,000,000 to recruitment agents , whereas in the legal system in Hong Kong , migrant workers are exempt from all fees to renew the contract . Despite this , the Hong Kong government still let the bad conditions persist without taking any legal action .
Persecution for the sake of continued persecution experienced by Erwiana until then he can no longer work and his employer forced him to return to Indonesia without the payment of salaries . Even when Erwiana will be returned to Indonesia , forcing the employer Erwiana to wear six layers thick to cover the thin body and covered with wounds . His employer also forced Erwiana to use headgear .
Suffering Erwiana revealed when the new companion home knowing the best known in terrible conditions suffered by Erwiana . His companion was then asked Erwiana open the case and immediately brought Erwiana to be hospitalized after they landed at the airport Adisumarmo , Solo. Currently , Erwiana hospitalized in Sragen Islamic Charity Health . According to his doctors , Erwiana suffered swelling of the brain due to a barrage of concussion on his head . Other injuries all over his body still has not completely healed . Erwiana weight when leaving for Hong Kong is about 50 pounds , but has now shrunk by half Erwiana weight is only about 25 kg .
Picture of suffering experienced by Erwiana is the fact that modern slavery is still experienced by Indonesian migrant domestic workers who are in Hong Kong . Yet during this time, the condition of migrant workers in Hong Kong are considered more ideal than other countries . Various parties declare that , Hong Kong has a mechanism of protection of migrant workers who are relatively good but , in reality there are often physical and sexual violence as well as modern slavery practices experienced by migrant domestic workers from Indonesia and other countries .
For that let us urge the Indonesian government , through the Ministry of Manpower and Transmigration , delete a policy requiring Indonesian migrant domestic workers to pay a renewal fee to the employment contract labor recruitment agencies and provide freedom for Indonesian migrant domestic workers in Hong Kong to be able to do independent contract .
You can help this petition to win by asking your friends to sign it ! Forward and disseminate this email to your friends .
Regards ,
Nithin , Revelation , Migrant Care , and the team Walk Free
Walk Free is a movement of people everyw
Google Terjemahan untuk Bisnis:Perangkat PenerjemahPenerjemah Situs WebPeluang Pasar Global